After a remarkably strong on-track showing in 2009, Team BIGFOOT was aptly rewarded off-track at the Monster Truck Racing Association's annual awards banquet, held this past weekend in St. Louis.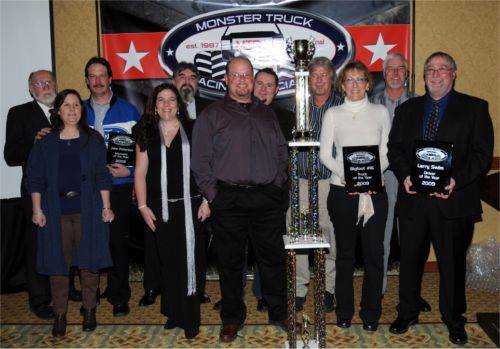 From left to right: Bob Chandler, Julie and John Peterson, Lisa and Nigel Morris, Rodney Tweedy, Kyle Doyle, Rick Long, Ann Trent, Jerry Dalton, & Bob Trent.
Team driver Larry Swim, pilot of the BIGFOOT Bad Boy (BIGFOOT #14) captured the coveted "Driver Of The Year" award in only his first full year of driving for the BIGFOOT team. As BIGFOOT Vice-President Bob Trent spelled out during his stand-in acceptance speech, Swim's fresh new approach to driving not only attracted the notice of both fans and competitors, but also helped Swim capture the 2009 Checkered Flag Productions championship. Swim chalked up an impressive 19 racing wins and 13 freestyle wins in 2009, over the course of 52 events. "This year has just flown by for me," said Swim after his arrival following the awards ceremony. "My main focus was to just get comfortable with the truck and try to represent my team well, and maybe sneak a few wins in here and there. I certainly didn't go out expecting to end up Driver of the Year!" Humble as always, he added that "I could not of had the year I did without the help of everyone in the shop at BIGFOOT, the help from [legendary BIGFOOT driver] Jim Kramer out on the road, the great people at Checkered Flag, and of course all the great fans we met. What a way to end the season!"
Swim was not the only member of the team rejoicing, as teammate Dan Runte collected "Truck Of The Year" honors for the accomplishments made by his Summit Racing Equipment BIGFOOT #16 machine. With Runte at the helm, BIGFOOT #16 turned in some of the most scintillating freestyle performances of the year during the outdoor season, in addition to being one of the toughest trucks to beat in side-by-side racing. In the 41 events that Runte and BIGFOOT #16 competed at in 2009, the duo tallied up a combined total of 23 racing and freestyle victories. "This truck has simply been a rocket-ship since its debut a few years ago," said Runte. "Summit Racing Equipment has been a fixture on this truck since the truck was new, and it has been great having them onboard. We won some races, put on some great freestyles, and didn't end up on our lid too much, so I'd say it was a pretty good year!"
One could argue that behind any great monster truck (or in this case, fleet of monster trucks) is a great mechanic, and this year one of the sport's greatest mechanics was also honored by the MTRA. And as you may have guessed, his toolbox calls the BIGFOOT shop home. 18-year BIGFOOT employee John Peterson deservingly won his first "Mechanic Of The Year" award, against a very talented pool of nominees. Peterson, whose calm demeanor contrasts with his scalding-hot engine tunes and unrivaled track-side wrenching abilities, was pleasantly surprised after being called to the podium to accept his award. "I was kind of shocked when I heard my name called," laughed Peterson. "It's pretty easy to fly under people's radar when you spend most of your time out of the limelight and in the pits or at the shop, so for me it's that much more important. I'm truly grateful to everyone who cast their vote for me!"
Team BIGFOOT was also awarded their championship trophy from Checkered Flag Productions, commemorating their clinching of the 2009 title. BIGFOOT team manager and VP Bob Trent was clearly proud of the team: "Our guys have done a fantastic job this year, both on the CFP tour and elsewhere. Firestone and Summit Racing have helped us grow, and have been a crucial element to our success, both on-track and in promoting their respective brands. 2010 is the 35th anniversary of BIGFOOT, and I know it is going to be a great year with all of the positive momentum we are taking with us from 2009. A big pat on the back to everyone on the BIGFOOT Team! We couldn't have done it without everyone's help!"
BIGFOOT drivers Rick Long, Rodney Tweedy, Jerry Dalton, and UK BIGFOOT driver Nigel Morris also attended the banquet along with BIGFOOT creator Bob Chandler, Bob and Ann Trent, and BIGFOOT's newest team member Kyle Doyle, who also emceed the awards ceremony.
The BIGFOOT monster trucks will return to action in January, kicking off the 2010 35th Anniversary season with throttles wide open the weekend of January 8th through the 10th. All five BIGFOOT race trucks will be tearing it up nationwide from West Valley City, UT to Oklahoma City, OK to Trenton, NJ. Check out the schedule and more about Team BIGFOOT at www.Bigfoot4x4.com!