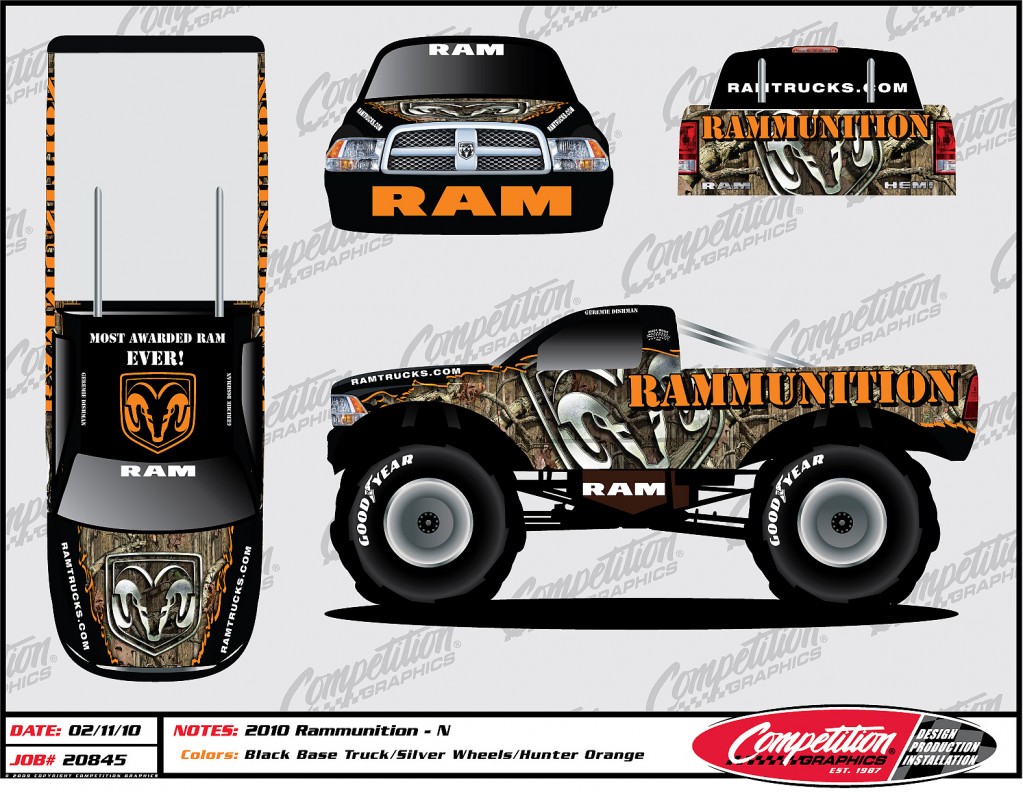 Mossy Oak® and Hall Brothers Racing Announce
A New Paint Scheme for Rammunition
Monster Truck Will Feature All-New Break-Up® Infinity™
WEST POINT, MS – Mossy Oak, in a partnership with Ram Trucks and Hall Brothers Racing, is pleased to announce that the new 2010 paint scheme for the Rammunition monster truck will include Mossy Oak's newest pattern Break-Up Infinity. Rammunition is part of the Monster Truck Racing Association (MTRA), which is made up of many of the top monster truck teams in the industry.
"We're fired up about Ram and Hall Brothers Racing decorating the Rammunition truck with our new pattern Break-Up Infinity," said Ronnie "Cuz" Strickland. "When these guys say they'll help us 'launch' a pattern they mean for-real launch. Like 20 feet over a school bus launch. We can't wait to see the new Rammunition this year."
Tim Hall from Hall Brothers Racing said, "We are excited to get to work with the folks from Mossy Oak on our new Rammunition monster truck. Mossy Oak and Ram Trucks are both the best in their fields, and we are proud to be associated with the best!"
Driver Geremie Dishman added, "As an avid sportsman, I know Mossy Oak is top of the line in the field. I can't wait until the fans get to see our all new Mossy Oak camo Rammunition. It is really cool!"
For more information on Rammunition and Halls Brothers Racing, log on to www.raminator.com. For more information on Mossy Oak and Break-Up Infinity, log on to www.mossyoak.com.