(Jefferson, ME)
Bottom Feeder Motorsports, home of the Crushstation monster truck and driver Greg Winchenbach, is proud to welcome McLaughlin Seafood as the team's primary sponsor for the remainder of the 2010 season. Based out of beautiful Bangor, Maine, McLaughlin Seafood is a family-owned business for over 30 years that specializes in local fresh seafood and nationwide shipping of live lobsters. Lobsters are shipped from their docks right to your door using Fedex overnight so that they arrive fresh and feisty.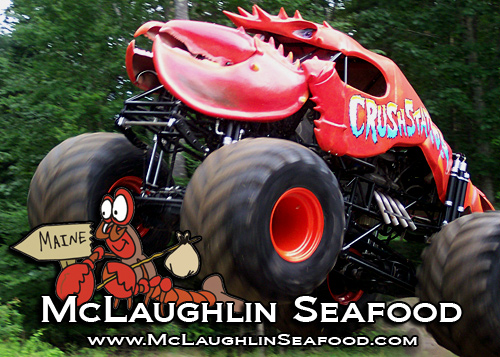 The sponsorship of the Crushstation monster truck is McLaughlin Seafood's first foray into motorsports, with the goal to market their online seafood shipping business to a whole new base of customers.
"The first time we saw the Crushstation monster truck, we knew it was a perfect fit for promoting our business," said owner Reid McLaughlin. "Being Maine lobster guys ourselves, we love the idea behind Crushstation. We are happy to have the opportunity to support one of our own, us lobster guys have gotta stick together!"
For Bottom Feeder Motorsports team owner Greg Winchenbach, the opportunity to promote a fellow Maine business is exciting.
"One of the main goals we wanted to accomplish when we created Crushstation was to bring a little bit of Maine to all the places we travel to and race," said Winchenbach. "Now with our friends at McLaughlin, we are helping promote a way for fans to try a real Maine "Crushstation" lobster by having them delivered right to your door."
McLaughlin Seafood's "From Our Dock to Your Door" nationwide shipping program features not only live lobsters, but also frozen lobster tails, smoked scallops, smoked mussels, sushi grade tuna, swordfish steaks, smoke salmon pate, lobster chowder, clam chowder and other great Maine made products. Ordering through McLaughlin Seafood can be done online at www.McLaughlinSeafood.com or over the phone by calling 1-800-222-9107.
Crushstation will begin sporting the McLaughlin Seafood logos at the upcoming Monsters on the Beach event May 5th through 7th in Virginia Beach, Virginia. Bottom Feeder Motorsports would like to encourage all our fans to check out McLaughlin Seafood and help support the businesses who support monster trucks.
For more information on the Bottom Feeder Motorsports team and the Crushstation monster truck, including news, photos, video and more, visit us online at www.Crushstation4x4.com.