BIGFOOT 4×4 Ltd (BIGFOOT Europe) is delighted to announce that is ready to ship the first two chassis they have ever built for a US customer!
BIGFOOT 4×4 Ltd has built or worked on monster truck chassis of almost every UK based monster truck team, but we are delighted to be the first European monster truck chassis manufacturer to ship chassis back to the birth place of monster trucks, the USA.
And how much better can it get, than to be supplying chassis for The Original Monster Truck®, the company that started it all, BIGFOOT 4X4, INC?
The two chassis have been built to a design, which is a modified version of Mr Bob Chandler's original design. This design has to be acknowledged as one of, if not the, best chassis in the industry; after all, this is the chassis that flew 202 feet and drove away!!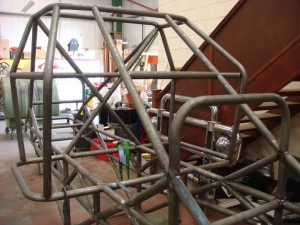 BIGFOOT 4×4 Ltd would like to thank BIGFOOT 4X4, Inc for the faith shown in our fabrication department, and for the chance to "give a little back" to the team who gave us our shot at running a truck bearing the BIGGEST NAME in Monster Trucks.
For more information please visit:  http://www.bigfoot4x4.co.uk