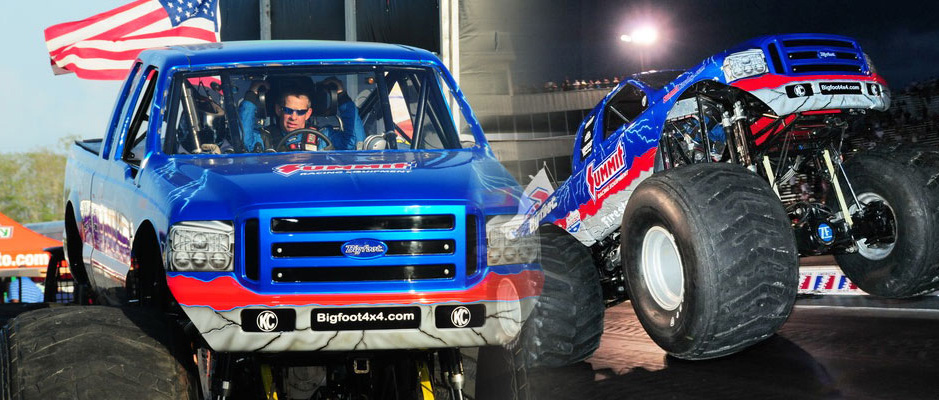 (O'Fallon, MO) BIGFOOT 4×4, Inc. will have its biggest presence yet at an American Drag Racing League (ADRL) event that continues to take shape as one of the largest in its history.
Adding even more excitement to the season-ending LenMar Motorsports ADRL World Finals VII presented by Summit Racing Equipment, the world's premier eighth-mile drag racing league announced on Monday that two BIGFOOT® monster trucks will be at the Texas Motorplex on Oct. 21-23 in Ennis, Texas for the final stop on the 2011 ADRL Tour.
The pair of impressive monster trucks will face off in a side-by-side duel on Friday, Oct. 21, and then will entertain the fans in a variety of ways on Saturday, providing another must-see element to the weekend.
"We are so thrilled to have two BIGFOOT monster trucks for what will be an amazing weekend at Texas Motorplex. We have forged such a great relationship with everyone at BIGFOOT and this is a further testament to that," ADRL Vice President of Sales and Marketing Brian Evans said.
"These monster trucks have proven to be such a big hit with fans of all ages and the runs down the track this year have been nothing short of remarkable."
The Summit Racing BIGFOOT monster truck, driven by Dan Runte, will make its customary appearance at an ADRL event, fresh off a series of incredible performances during ADRL events this year. Joining Runte will be Darron Schnell, who will be driving a new Vi-COR-sponsored BIGFOOT truck, which will have a special "dairy cow" theme. The new truck will be white with black cow spots on it, making it a certain head-turner.
The pair of trucks will face off on Friday as the Vi-COR truck will makes its first official pass down a dragstrip. "We're going to be lucky enough to have two trucks down there to run side-by-side against each other. It's going to be a lot of fun in Ennis," BIGFOOT Vice President of Sponsorships and Development Bob Trent said.
"They're so competitive against each other and that's going to make it very interesting because they both want to win."
In operation since 1975, BIGFOOT 4×4 continues to have a sizeable impact in the ADRL and drag racing world.
The St. Louis-based company is closing in on completing its 18th BIGFOOT monster truck and eight are currently active, with one more expected to be running in 2012.
The Summit Racing BIGFOOT truck has been a star attraction at ADRL events for several years, drawing big crowds in the pits and memorable reactions after going down the track.
Weighing more than 10,000 pounds, it has gone as quick as the 7.80s in the eighth-mile at more than 80 miles per hour, a testament to the considerable work done in testing to make BIGFOOT an impressive drag racing monster truck.
"We started doing the runs down the track two years ago and I think we caught a lot of people off-guard by doing it because it turned out to be a whole lot cooler than people thought it would be, "Trent said.
"We've been doing the burnout and going down the track and I think people have been impressed with how fast it actually has gone. It's been a lot of work, but it's turned out really well."
Runte has also perfected the crowd-pleasing run, performing a massive wheelstand before darting down the track.
"Dan is a great driver and I think he's got it figured it out now where he can launch off the line, get the tires up in the air, go about 80 feet, set it down and keep it going," Trent said. "It really is unbelievable."

ABOUT THE ADRL
Based in O'Fallon, Missouri, the American Drag Racing League is the nation's premier sanctioning body for the sport of eighth-mile drag racing. The professional categories featured in the ADRL are Pro Junior Dragster, Summit Racing Equipment Top Sportsman, Extreme Pro Stock, Pro Extreme Motorcycle, Extreme 10.5, Pro Nitrous and Pro Extreme, the quickest doorslammer class in all of drag racing. The 2011 ADRL tour consists of nine national events run throughout the United States. For more information on the ADRL, visit www.ADRL.us.
For more information about Team BIGFOOT, please visit www.bigfoot4x4.com.