(Hazelwood, MO)
Team BIGFOOT
members
Dan Runte
and John Peterson were awarded the 2011 Driver of the Year and Mechanic of the Year awards, respectively, this past weekend at the Monster Truck Racing Association's 25th Annual Awards Banquet in St. Louis, the seventh such award for Runte and the second of its kind for Peterson!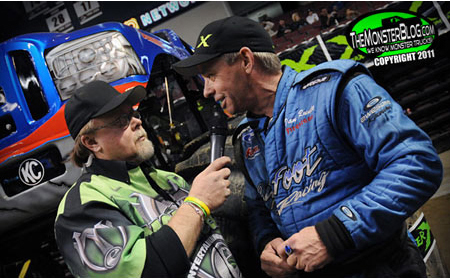 Dan Runte grabs his 7th MTRA Driver of the Year Award. Photo Courtesy of TheMonsterBlog.com
Runte, who has been the team's lead driver since the mid-1990's, captured his first of seven MTRA Driver of the Year awards in 1993, behind the wheel of BIGFOOT #8. Since then, he has claimed the same honor as the pilot of BIGFOOT #14 (1994, 1995, 1998, and 1999) and BIGFOOT #16 (2008 and 2011). Notable highlights in Runte's year included his 2011 Lucas Oil 4-Wheel Jamboree Nationals championship, his domination of the Rocky Mountain Raceway Clash of the Titans figure-8 race invitational, and his Thanksgiving-time visit to US troops stationed in Germany.
"I'm definitely flattered, and very grateful to win Driver of the Year honors again," said Runte. "There's no respect quite like that of your peers, so it means a lot coming from a group of people who really know what the monster truck business is all about and what it takes to be competitive day in and day out. It's a great morale boost heading into January, for sure!"
Runte's teammate and long-time on-track crew chief John Peterson snagged his second career "Mechanic of the Year" title, an award that recognizes many of the un-sung heroes that work behind the scenes to keep the industry's top trucks and drivers running. While at the shop in St. Louis, Peterson oversees the engine and transmission maintenance and tuning for the entire fleet of eight BIGFOOT trucks, in addition to assisting with chassis, drivetrain, and electrical maintenance on the trucks. On the road, Peterson frequently can be found serving as the crew chief for Runte at many major national events, in addition to assisting other team drivers at various events including 1/8th mile drag race exhibitions, where Peterson relies on his strong interest and background in drag racing.
"I definitely appreciate the honor," said Peterson. "There are a lot of very talented wrenches out there, both at BIGFOOT and throughout the industry. So it's a pretty good feeling when you see your name nominated alongside some other very capable people, and it's an even better feeling when you receive top honors!"
Peterson and Runte will now put their combined skills to the test yet again this week along with the rest of the team, as they work to break-in Runte's new ride, the all-new BIGFOOT #18 race truck. The team is scheduled to test the new beast later this week at an undisclosed private location, in hopes of dialing the truck in perfectly for the upcoming 2011 race season.
"John and everyone else down in the shop have done a great job of getting #18 together and running strong," said Runte. "I'm confident that with a couple of solid days of testing and the brainpower of guys like John, Bryan [Bertoletti], and Jim [Kramer], we should be able to get this thing right where we want it."
For more information visit: http://bigfoot4x4.com/