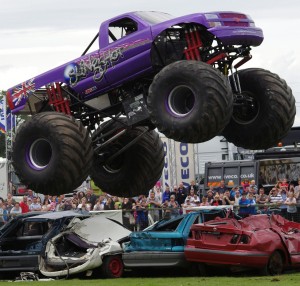 It is with great sadness that we must report the passing of Karl Swallow. Karl the owner and driver of the Slingshot monster truck was involved in the MTRAE from nearly the very beginning, later serving as a Director.
On its debut in 2004 Karl's truck was the only naturally aspirated truck in the entire field, but this didn't stop him from taking it to third place in the series, not bad for a rookie!! His full on driving style earned him a legion of fans, with his wide open assaults on freestyle obstacles.
Karl had overcome so many health challenges in recent years, most notably a failed kidney transplant attempt. He lived to drive is truck and no matter what his pain level he never failed to deliver when working for his fans.
Karl's is survived by parents, Rozz and Mick, as well as sister Denise.