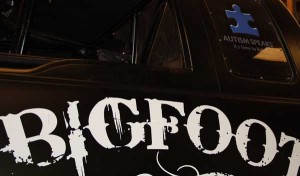 BIGFOOT TO HELP SUPPORT AUTISM AWARENESS!
Despite being one of the busiest teams in the entire monster truck industry, with over 800 event days of activity annually, Team BIGFOOT is once again proving that they are never too busy for their fans. BIGFOOT has teamed up with Autism Speaks to help raise even more awareness of autism spectrum disorders.
"We are immensely proud to be campaigning the Autism Speaks blue puzzle piece logo on all of our BIGFOOT® trucks for the 2013 season and beyond," said BIGFOOT VP of Sponsorships & Business Development Bob Trent. "We have so many young fans who struggle with autism and are hypersensitive to the loud noises and other potentially overwhelming stimuli found at a monster truck event, yet they still want to come out and be a part of the event. We wanted to take a step forward and show our appreciation of them and our concern about autism by partnering with Autism Speaks, and to make these kids and their families feel even more welcome at the events. They are rooting for us, and we are rooting for them!"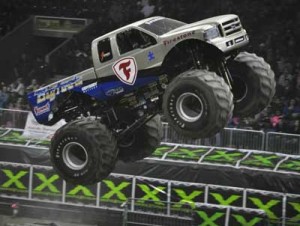 Autism Speaks was founded in February 2005 by Suzanne and Wright, grandparents of a child with autism. Their longtime friend Bernie Marcus donated $25 million to help financially launch the organization. Since then, Autism Speaks has grown into the world's leading autism science and advocacy organization, dedicated to funding research into the causes, prevention, treatments and a cure for autism; increasing awareness of autism spectrum disorders; and advocating for the needs of individuals with autism and their families. With autism now affecting 1 in 88 children, the importance of increasing autism awareness and raising funds is more important than ever.
"We're really hoping that our new partnership with Autism Speaks will help to not only generate more public awareness for autism, but will also help improve the morale of the families of children with autism and the children themselves. We want to show them that they've got some new friends in the monster truck world who are proud to have taken up their cause," said BIGFOOT President Ann Trent. "Already, after only two weeks of events in 2013, our drivers are reporting a great response from fans, especially those with autism and their families, in regards to the Autism Speaks logos on the truck. We really think this is going to be a great partnership, and we're honored to be able to help!"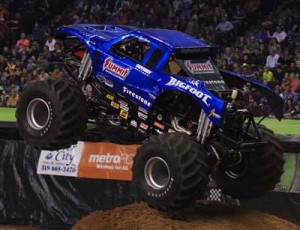 The fleet of BIGFOOT monster trucks, which includes 6 competition trucks and 3 display trucks, can again be found crisscrossing North America, but now they are proudly displaying the Autism Speaks puzzle piece – you can see them at stadiums, arenas, racetracks, custom auto shows, sponsorship, and grand opening and corporate events, and TV episodes.
And, new for 2013, the brand-new, all-electric BIGFOOT #20 will be crushing cars at a limited number of venues. This one-of-a-kind monster truck will perform its very first in-door car crush at Bartle Hall in Kansas City at the Championship Auto Shows event the weekend of February 8, 2013. Come see a car crush where you hear the junk cars crunch, as the truck only sounds like a very big R/C truck!
To learn more about the BIGFOOT team and their fleet of championship-winning trucks and drivers, including where they will be appearing in 2013, visit the team's online home at www.bigfoot4x4.com .
To learn more about Autism Speaks and their awareness, advocacy, fundraising, and scientific efforts, and to educate yourself more about autism and its early warning signs, please visit Autism Speaks on the web at www.AutismSpeaks.org.