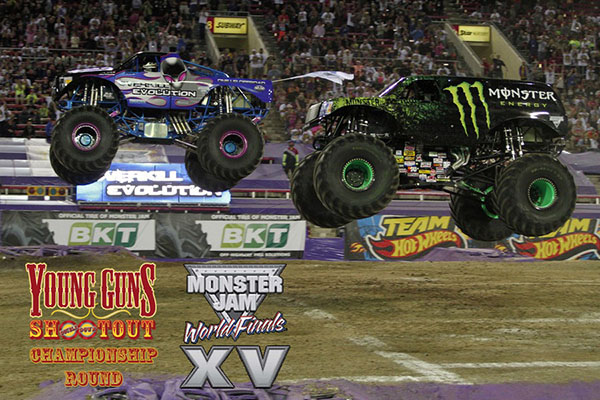 Mike Vaters Jr. drove the Truck Toyz Performance/One Up Offroad Overkill Evolution monster truck to a historic victory in the 2014 Young Guns Shootout at Monster Jam World Finals XV.
The largest monster truck event in history took place at Sam Boyd Stadium in Las Vegas, Nevada on March 20-22, 2014 hosting over 85 of the top names in the sport. FELD Motorsports carefully selected their top 14 rising stars to compete in the annual Young Guns Shootout. With a mere 11 events under their belt the fledgling Overkill Evolution team faced stiff competition particularly from several teams which were in their third year of competition in the event.
Crew Chief Matt Cody did not allow the stated 18 to 1 odds to distract his crew from insuring that everything on the truck was 100% ready for battle. And an epic battle it was. But when the dust settled Vaters piloted the Roush Yates Performance/Ford Racing powered Overkill Evolution to a decisive victory!
Vaters made history by being not only the first rookie to ever win the Young Guns Championship title, but also the first to do so with All Ford Power. At the 2014 Monster Jam Awards Ceremony he stated, "To be a part of Monster Jam is amazing. We went out there this year and did it, and I still can't believe we did it. I went in to the Young Guns Shootout only having been in my truck for 12 weeks. It's an honor to be the third Young Guns Shootout champion."
But he wasn't done just yet…..
During that same ceremony the Overkill Evolution team was also honored to have Mike Vaters Jr. selected as the 2014 Monster Jam Rookie of the Year, a title he would share with very deserving fellow competitor Cody Saucier.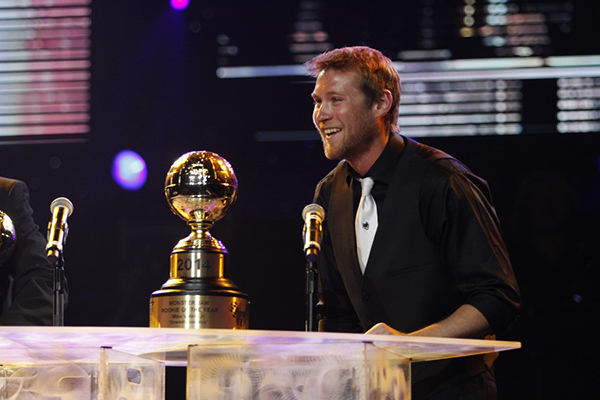 Team owner Marty Garza stated, "Words cannot express how proud I am of Mikey and the entire team. There was so much hard work and dedication put into this project that there were times when we questioned if it would all be worth it. But now in hindsight it was worth every moment. I believe the future for our team is very bright."
For more information on the Overkill Evolution team follow them on Facebook: https://www.facebook.com/OverkillEvolution