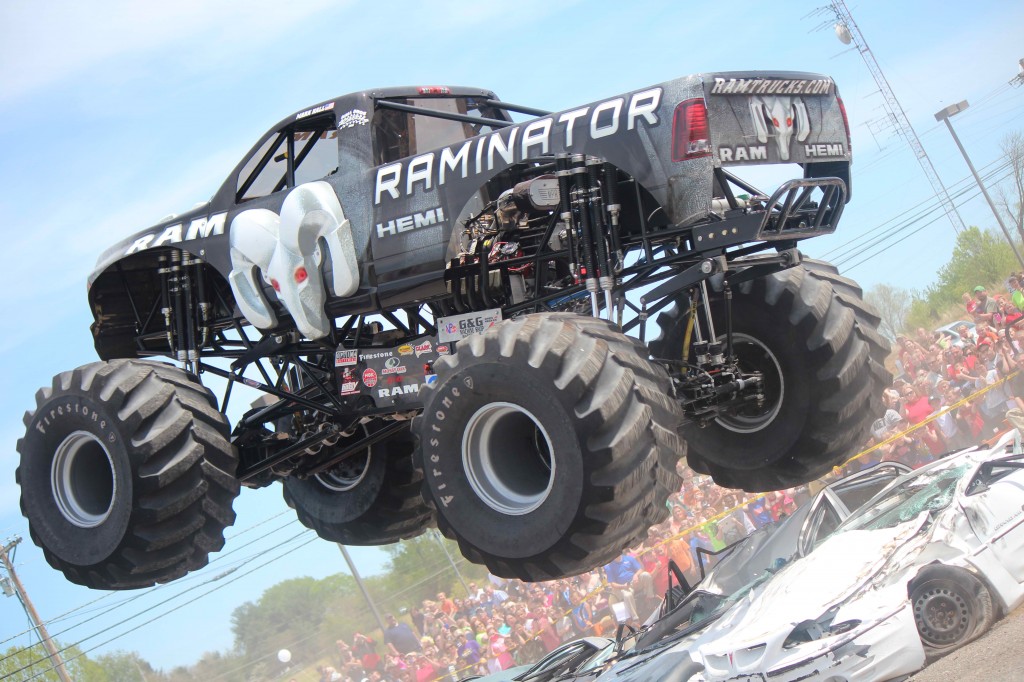 RAMINATOR MONSTER TRUCK AND HALL BROTHERS RACING TEAM SECURE 11th MONSTER TRUCK THUNDER DRAG NATIONAL CHAMPIONSHIP
Driver Mark Hall Takes Home Top Honors to Close Out 2014 Season
AUBURN HILLS, Mich., October 3, 2014 – Raminator, a monster truck sponsored by the Ram Truck brand, claimed victory at the 2014 General Tire Monster Truck Thunder Drags, taking the National Championship for the eleventh time. Locking in a total of 1,880 points, Raminator and Driver Mark Hall defeated the field of ten trucks to secure their 22nd overall championship title. Throughout the year, the Ram monster trucks compete in races and freestyle events and tour the country, making appearances at dealerships to offer ride-alongs and car-crushing spectacles for fans of all ages.
The Hall Brothers Racing team, owners and operators of the Raminator and the Ram monster truck lineup, finished strong at the end of the season. Rammunition and Driver Mat Dishman finished in 3rd place with 1,720 points, and Mopar Muscle completed its debut performance on the tour in 6th place with 1,080 points, with Driver Mike Miller in only his second season on the tour.
"Finishing the 2014 racing season with a championship title speaks to our hard work and commitment to being the best in monster truck racing," said Hall Brothers Racing President and Crew Chief Tim Hall. "With the ongoing support of the Ram Truck brand, we look forward to many more opportunities to add to our achievements."
The 4-Wheel Jamboree 2014 General Tire Monster Truck Thunder Drags season consisted of four events in Lima, OH, Springfield, MO, Bloomsburg, PA and Indianapolis, IN. With four races at each event, competitors had 16 races to gain points towards the championship. When they are not competing, Raminator, Rammunition and Mopar Muscle along with the Hall Brothers Racing team appear at trade shows, farm shows and many other local events.
The Ram Truck brand monster truck lineup includes Raminator and Rammunition, sponsored since 2002, as well as Mopar Muscle, introduced in 2014. The entire line of Ram monster trucks are owned and operated by the Hall Brothers Racing Team based out of Champaign, Ill. Raminator has been named Monster Truck Racing Association's (MTRA) "Truck of the Year" a record seven times, while Mark Hall, driver of Raminator, has been named MTRA "Driver of the Year" eight times since 1996, and Crew Chief Tim Hall has been named MTRA "Mechanic of the Year" five times since 2006.
About Ram Truck Brand
Since its launch as a stand-alone division of Chrysler Group LLC in 2009, the Ram Truck Brand has steadily emerged as an industry leader with one goal: to build the best pickup trucks and commercial vehicles in the industry.   Creating a distinct identity for Ram Trucks has allowed the brand to concentrate on core customers and features they find valuable. Whether focusing on a family that uses a Ram 1500 day in and day out, a hard-working Ram 3500 Heavy Duty owner or a business that depends on its Ram ProMaster commercial van every day for deliveries, Ram has the truck market covered.   In order to be the best, it takes a commitment to innovation, capability, efficiency and durability. Ram Truck invests substantially in its products, infusing them with great looks, refined interiors, durable engines and exclusive features that further enhance their capabilities.   Moving into the 2015 model year, Ram continues to beat the competition in the two most sought-after titles, fuel economy and towing capacity:
-Best-in-class fuel economy with exclusive EcoDiesel – 28 mpg with Ram 1500
-Best-in-class towing capability – 30,000 pounds with Ram 3500
Truck customers, from half-ton to commercial, have a demanding range of needs and require their vehicles to provide high levels of capability. Ram trucks are designed to deliver a total package.