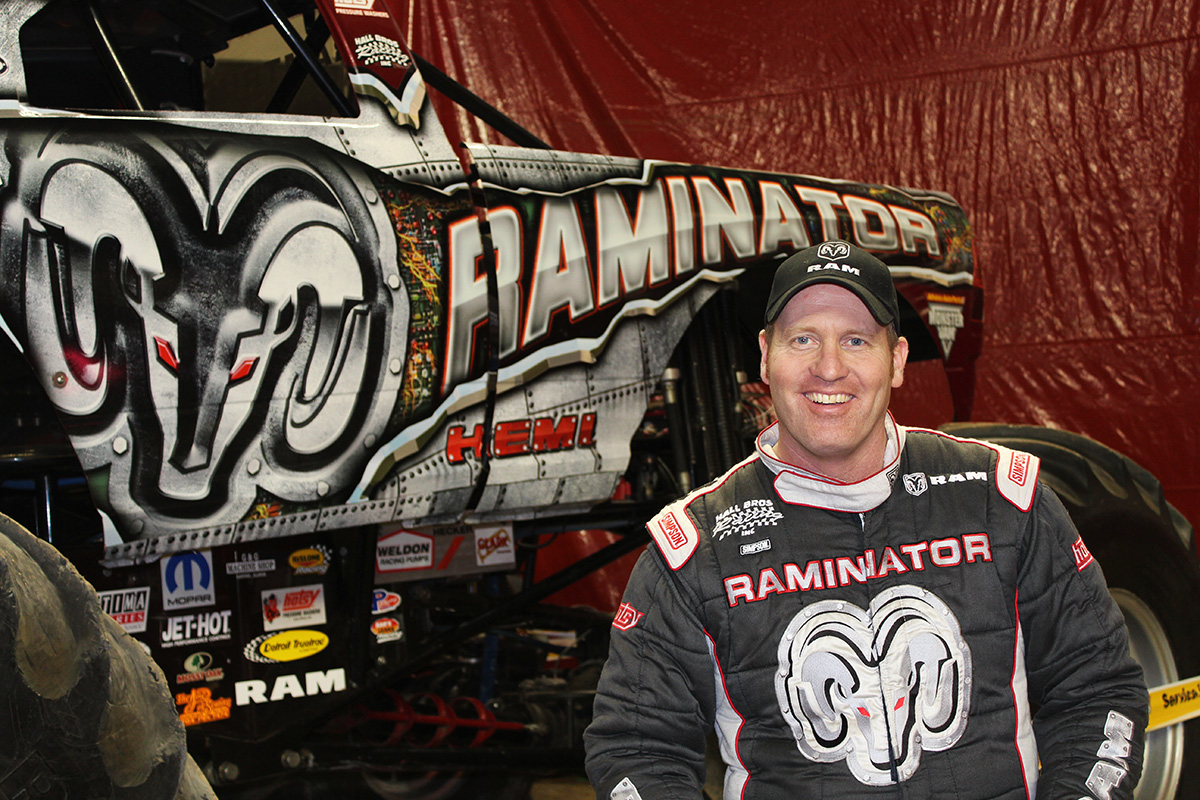 Mark Hall and RAMINATOR : off to a good start at the General Tire Monster Truck Thunder Drags
Mark Hall drove the RAM trucks sponsored RAMINATOR monster truck to victory in all 4 of the races this weekend in the opening rounds of the 4 Wheel Jamboree General Tire Monster Truck Thunder Drags.
Hall returned to the Allen County Fairgrounds in Lima, OH for the 28th annual 4 Wheel Jamboree Nationals  as the defending series champion, and picked up right where he left off last season. "We had a great year last year…and it feels fantastic to get off to a good start this year as well! Our 2013 RAMINATOR is a fantastic racer, and I am glad we could guide it to victory lane! Sweeping an event like this against 10 other trucks and drivers is very hard to do. It speaks to the preparation our team puts in, and to the quality of our RAM truck. When you have the best truck and the best crew, you expect to do well. I'm glad I could do my job on the track and get us the wins!".
RAM team drivers Mat Dishman in RAMMUNITION and Mike Miller in the HOTSY truck also competed in the event. "I struggled a little trying different driving styles…trying to figure out how to attack the track" said Dishman. " I am glad I went some rounds each day…so we are sitting good in the points. I can't wait 'til the next one!".  Mike Miller got to run the HOTSY truck for the first time at an outdoor race. "Man…that was fun!" said Miller. "The awesome power of the HEMI engine is really something to experience.  Racing against all these guys with all this experience is tough, but I was able to win some rounds and gain some seat time. I am excited…I wish the next race was today!"
The series moves to the Ozark Empire Fairgrounds in Springfield, MO for the next rounds on June 22-23.
For More information: www.raminator.com and www.familyevents.com